Happy March! There's nothing like a good scrapbooking crop and challenges to get my creative juices flowing, and this weekend, Shimelle is hosting one
over at her blog
: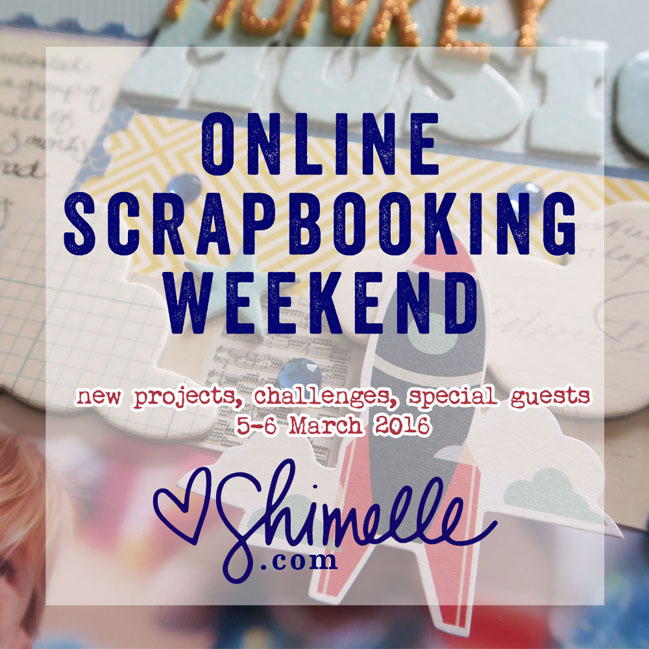 It was just the boost I needed to get started on my
March Counterfeit kit!
The first challenge I took was the older photos/monochromatic challenge. I used all the yellows in my
March kit
, plus several neutrals, such as gray, black, and white. (ps-I love yellow and gray together! Reminds me of sunshine breaking through the clouds!) Here is my layout:
I layered up a bunch of the journaling cards, washi, a frame, a couple of diecuts from my scraps bin, and a few cameras cut from the Amy Tangerine camera paper from my kit, flipped the green chipboard stars over, and inked them with charcoal American Crafts ink (that's actually why you notice a couple of smudges on my page, I tried to put them down before they were fully dry-oops!). I also glittered a wood veneer camera from my kit, and stamped a few of the stamps with the AC charcoal, as well. I love it, smudges and all, because it records a moment in my life that I actually haven't documented yet-my high school graduation. And it does it in a rather unexpected way, by telling what I thought my life was going to be like at that time, and how it is much richer and better now than I could have dreamed. Bonus:I got a great start on my March stash kit! We'd love to have you join us over at the
Counterfeit Kit challenge blog
!