I played along with Shimelle's Journal Your Christmas class for the first time this year, and I loved it! Instead of trying to do a page every day in December, like a December Daily style album, I just read her daily prompts and journaled whatever they triggered for me, and took photos along with the photo prompts, also! It was so much fun, and I felt so much less stress! Now that the holiday has passed, I am using my Merry and Bright kit (and another kit that I will share tomorrow) to put these memories and photos into an album. Over the next month, I plan to share these pages and stories here on my blog. I really feel that this class helped me to appreciate the joys and memories of the season, and I
love
that I am now signed up for lifetime access to it! Is it weird to already be excited, and planning things for next year? Lol!
Anyway, on to my pages:
Day 1, "A Christmas Manifesto":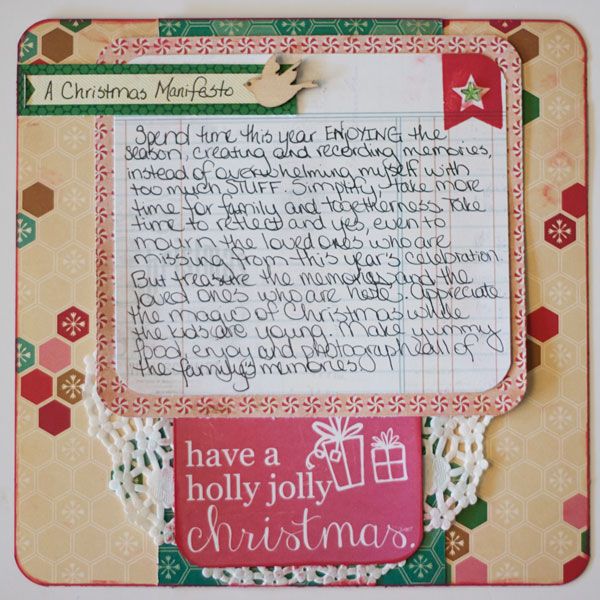 The journaling reads:
"Spend time this year ENJOYING the season, creating and recording memories, instead of overwhelming myself with too much STUFF. Simplify, take more time for family and togetherness. Take time to reflect and yes, even to mourn the loved ones who are missing from this year's celebration. But treasure the memories, and the loved ones who are here. Appreciate the magic of Christmas while the kids are young. Make yummy food, enjoy, and photograph all of the family's memories."
Day 2, "Tuna Can Ornaments":
The journaling reads:
" I remember sitting at the table as a child, making the ornaments for this tree! The painstaking work threading each bead onto wire for the icicles, and the hot glue burns on my fingers from gluing the velvet ribbons and tiny ornaments onto the tuna cans...I wonder how many cans of tuna were eaten in the process of making these? I love crafty things like these now, so it seems funny to think back on how much I hated making them at the time!"
Thanks for looking! I will be back with another kit from my stash tomorrow!