Two Peas in a Bucket has had a range of CHA challenges this week, so I used several of the challenges as inspiration for my Journal Your Christmas pages. Here is my page for JYC, Dec 3,
"Planning Magical Moments":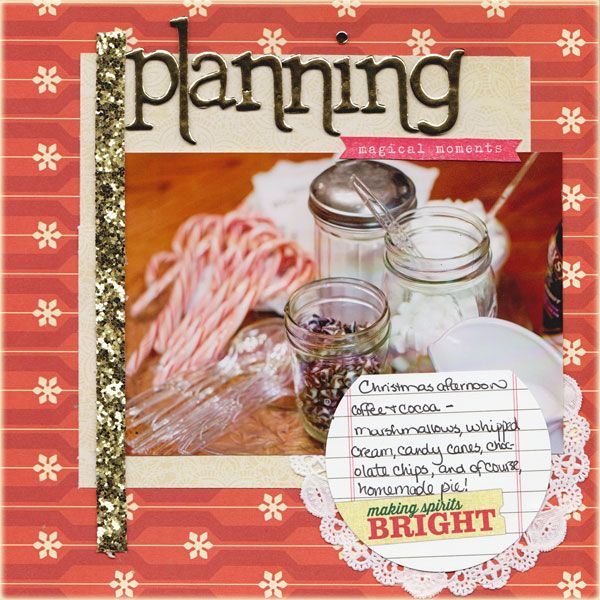 This layout is done in response to CHA Challenge #2, "Scraplift 2 Concepts". I took inspiration from these sources:
http://www.twopeasinabucket.com/gallery/member/367453-tenmylove/1875576-december-daily-day-1-cover/
[twopeasinabucket.com]
and this one:
http://www.twopeasinabucket.com/gallery/member/498045-soaphousemama/1877620-days-3-and-4-december-daily-jyc/
[twopeasinabucket.com]
I also used my 2 kits that I made up for January from my stash:
Scrap Your Stash Kit
, and
May Your Days Be Merry and Bright Counterfeit Kit
.
Supplies used: Cosmo Cricket Jolly Days background, cream colored pp is from Crate Paper, Wilton's Doily, Elle's Studio stamp and journaling spot, gold glitter ribbon and Thickers from American Crafts.
I quite like how it came out, and I have enjoyed playing along with the challenges at 2Peas, so I will be sharing many more pages over the next few days...Leave me a comment to let me know what you think!